LEO SATO
Artistic Director, Producer of the original Tango and Latin Gala
Leo Sato
Tango Dancer and Lead Instructor
Marina Gonzalez
Tango Dancer and Instructor
As Calgary's most recognized tango dancer, Mr. Leo Sato spent much of his youth training as a competitive bodybuilder under the tutelage of Ken Suemitsu (1972 IFBB Mr. Universe Gold medalist). Through his guidance, Leo went on to win a a provincial championship and was first introduced to the world of dance. Suemitsu had been a ballroom dance instructor before embarking on his successful bodybuilding career. Suemitsu taught Leo that bodybuilding was not only about body size, but also about balance, composition, coordination, and choreography. These insights became the foundation for Leo's passion as a dancer and choreographer. Whether bodybuilding or dancing, Leo believes the spirit of creativity resides within the artist, no matter what the medium is.

After retiring from bodybuilding, Leo re-focused his passion and commitment to dance. Despite his extensive experience with various dances, his true love now lies with Tango. Today, Leo is an enthusiastic instructor and established mentor to thousands of students for over 18 years and counting. Leo and his partner perform at numerous popular events throughout Calgary and beyond. His memorable contributions include:
Open Salon Tango Championship Senior division, Cali, Colombia - Finalist, 2017
Calgary Philharmonic Orchestra, Buenos Aires Night (Dancer) 2016
Calgary Philharmonic Orchestra with the legendary Bandoneon player Daniel Binelli (Dancer) 2008
Ukrainian Ballet Professionals, Shumka (Choreographer / Guest Dancer) 2006
British Blockbuster film, Burn-up (Choreographer) 2007
Movie, Last Tango (Choreographer / Body-dub) 2003
Live Tango show, Rhythm of Peace (Lead Dancer / Producer) 2004
Live Tango show, Tango Temptation (Lead Dancer / Producer) 2006
Live Tango show, Carnaval Latino (Lead Dancer / Producer) 2008
He is also the creator of Tango and Latin Gala. He has over 5,000 subscribers on his Youtube channel and well over 1.5 million views as of Jan 2018 and counting.
Marina Gonzalez
Marina Gonzalez, native of Russia, began her dance training at the USSR Youth Competitors Ballroom Dance Company at the young age of seven, and continued onto her educations with the Russian Folk Dance Company. With this company, her love for dance and culture brought her to perform with a group of talented young dancers. She expand her opportunities in other types of dances after immigrating to Canada. Here, she has guest-performed in the International Salsa Congress and Rocky Mountain Grand Prix. She has dedicated herself to TangoCalgary.com company and her students, planning to continue to excel in her dance career.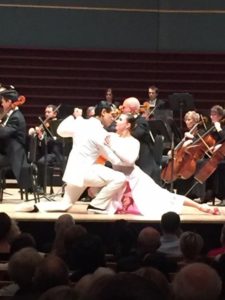 Performance with Calgary Philharmonic Orchestra